The 20th KIAF announced Film, Radio&Audio, Advertising Campaign jury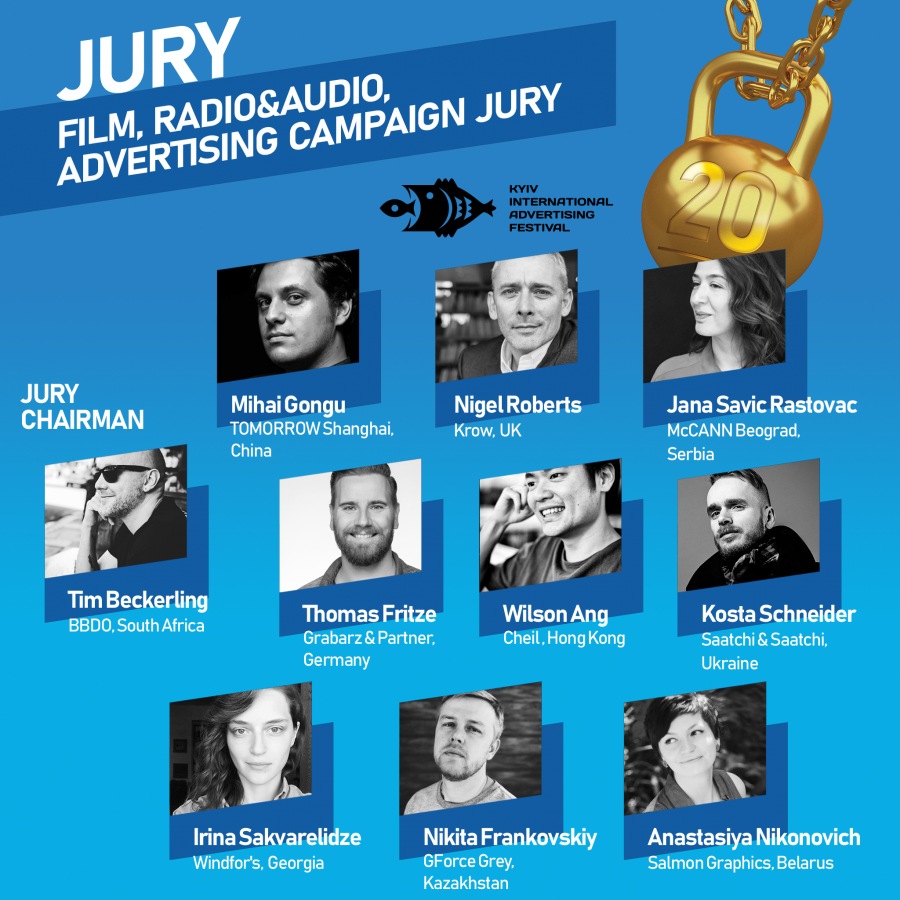 The organizing committee of the 20th Kyiv International Advertising Festival announces the first jury team, which will evaluate such contests as Film, Radio&Audio and Advertising Campaign. The Chairman of the jury is Tim Beckerling, Creative Director of BBDO from South Africa.
Judges will evaluate the originality of creative ideas and non-standard approaches that were used in TV ads, radio ads/audio, advertising campaigns – in those contests creativity is the core.
International judges with great experience in the industry and numerous awards will evaluate works of Film, Radio&Audio, Advertising Campaign contests, meet the jury team:
• Chairman – Tim Beckerling, Creative Director, BBDO, South Africa
• Wilson Ang, Group Creative Director, Cheil Hong Kong, Hong Kong
• Nikita Frankovskiy, Associate Creative Director, GForce Grey, Kazakhstan
• Thomas Fritze, Creative Director Art, Grabarz & Partner, Germany
• Mihai Gongu, Executive Creative Director, TOMORROW Shanghai, China
• Anastasiya Nikonovich, Senior Copywriter, Salmon Graphics, Belarus
• Jana Savic Rastovac, Executive Creative Director, McCANN Beograd, Serbia
• Nigel Roberts, Creative Director, Krow, UK
• Irina Sakvarelidze, Senior Copywriter, Windfor's, Georgia
• Kosta Schneider, Creative Director, Saatchi & Saatchi Ukraine, Ukraine
There will be 4 international teams of judges, one team of representatives of advertisers in the Industry Categories jury, and one team of the strategists of communication agencies in the team of judges of the Marketing Innovations contest.
The first entry deadline is on 15th March.
Participants have less than two days before the deadline, so hurry up and register now for the contest program. The festival details, rules and entry fees can be found on the website kiaf.com.ua. If you have any questions, please contact the organizing committee: festival@vrk.org.ua, or +38 (044) 490 90 30.