Ukrainian Creative Awards 2019: registration is opened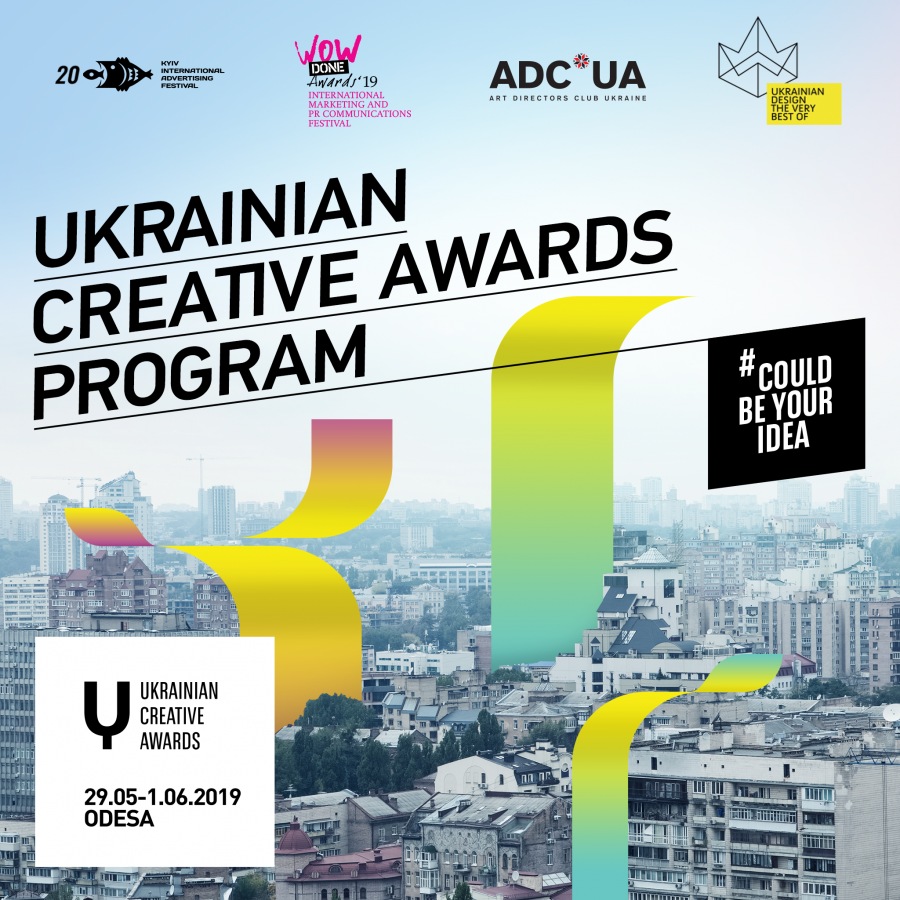 May 29-June 1 in Odesa will be held Ukrainian Creative Awards, which will unite the most famous festivals on the advertising market and bring together the most creative people in the country. The program has 4 days, 3 ceremonies, 4 parties, 6 locations, 90 speakers from 14 countries, so we recommend you to plan a trip to Odesa now.
Ukrainian Creative Awards (UCA) will unite at one platform 4 projects – two international festivals Kyiv International Advertising Festival and WOW DONE AWARDS, as well as two national contests ADC*UA Awards and Ukrainian Design: The Very Best Of.
The UCA program will last for four days – from May 29 to June 1 in Odesa. The program will include workshops and master classes (and there will be 3 parallel streams in three different locations), exhibition and contests screenings, 3 awards ceremony, parties and networking.
The seminar program will bring together more than 90 leading experts from Ukraine and abroad, more than 50 most hot topics from various fields of advertising and creativity. Within the seminar program it will be presented different direction in topic – branded content, marketing innovations, cyber cport as a phenomenon in advertising, YouTube today, marketing and PR communications, and others.
The special guests of the seminar program will be the chairmen and jury members of KIAF 2019, WOW DONE AWARDS 2019 and other international creators of leading agencies in Europe and Asia, multiple holders of prestigious industry awards, including Cannes Lions: Tim Beckerling, Creative Director, BBDO, South Africa; Miguel Bemfica, Chief Creative Officer, MRM // McCann, Spain; Jorg Riommi, Chief Creative Officer, Publicis Groupe Romania, Romania; Christos Papapolyzos, President of South Eastern Europe, Central Asia and CIS DDB Europe, Greece / Ukraine; Yordan Zhechev, Regional Creative Director, guts & brainsDDB, Bulgaria; Pavel Fuksa, Creative Director & Graphic Designer, Czech Republic; Alberto Canteli, CEO of Nordics, CEE and Middle East, Havas Group, UAE; Marton Jedlicska, Chief Creative Officer, Wavemaker, Hungary; Mila Myslov, EMEA Insight Analyst, UM International, UK; Mike Gilbson, Creative Director and Consultant, Lecturer at the British Higher School of Art and Design, UK and others.
The program is published on the website http://creative-awards.com.ua/program/, which will be complemented with new topics and speakers.
• May 29 – Seminar Program (Open Day)
• May 30 – Seminar Program. Awards Ceremony of ADC*UA Awards 2019 and Ukrainian Design: The Very Best Of 2019. UCA Opening Party
• May 31 – Seminar Program and Awards Ceremony of WOW DONE AWARDS 2019. UCA Party
• June 1 – Seminar Program and Awards Ceremony of Kyiv International Advertising Festival 2019. UCA Closing Party
Accreditation for the program is open on the website http://creative-awards.com.ua until May 27.
For any questions, please contact the organizing committee: festival@vrk.org.ua, project@vrk.org.ua, or call +38 (044) 490 90 30.
See you in Odesa on Ukrainian Creative Awards 2019!